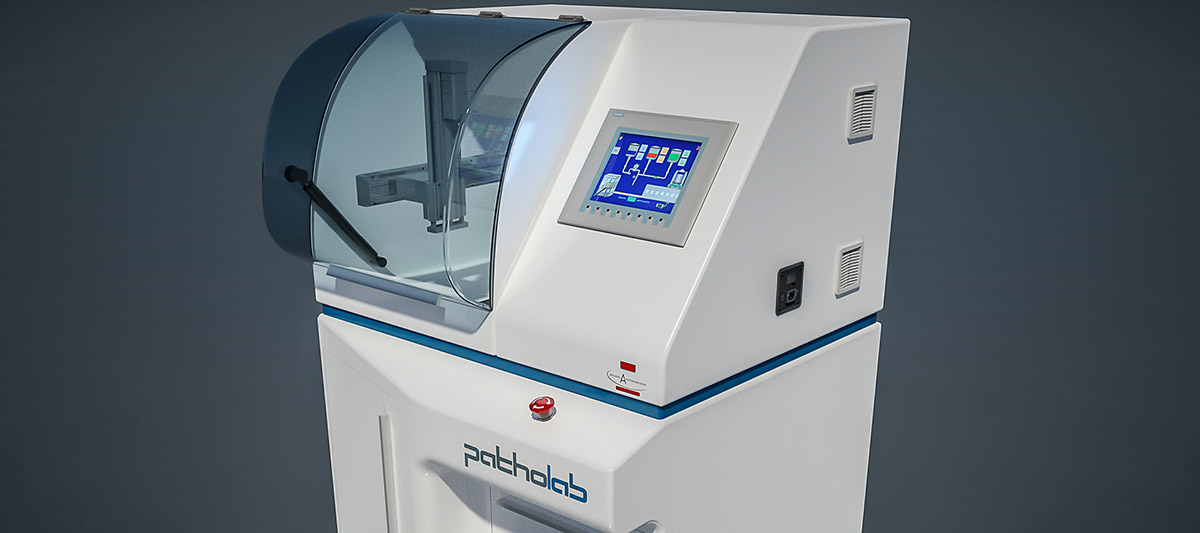 A well trained and experienced team of engineers with different skills in the various engineering areas is committed to meet any challenging requirement of the Biomedical Equipment sector working in a strong partnership with Clients.
In last few years we developed, starting from scratch, modern biomedical equipments under the direct supervision of Clients and final customers. The strong partnership with partners allowed us to collect all the required information needed to develop a basic and detailed engineering design, to select and procure materials and components, and to assembly the final product developing also the software.
All the developed equipments have been engineered and built in accordance of the strongest existing normative and are CE marked.
More information are present in box below:
HistoProcess 300
Is a tissue processing technology for fixation, dehydration, clearing, and infiltration.
Efficiency
Standard procedure for 4 mm specimens in less than 2 hours.
2 mm specimens in less than 1 hours.
Needle biOpsies in 30 minutes.
Saving 60% of the reagent in respect to the conventional tissue processing.
Sharp morphology
Our technology and l-iistosafe reagent provide superior staining quality when compared with conventional tissue processing: they provide exceptionally sharp morphology and nuclear details.
Histo Process 400 is engineered for all types of specimens up to 5 mm, including fatty specimens such as breast tissue. No pre-sorting or special grossing. No risk of over-fixation or the need to perform recommended antigen retrieval procedures.
Safety
Automatic loading from 5 liter tank pre-filied by the quick connector of the instrument without unscrewing the cap of tank.
Automatic discharge of reagents and wax in a separate waste tank placed in the compartment under the instrument.
The instrument is closed by a lid and it is equipped with an active carbon filter to extract solvent fumes
Flexibility
The system allows to process the tissues continuously according to the established schedule with a minimum interval of 20 minutes for each process chambre.
Possibility to use conventional solvent and recommended Histosafe solvent.
Histo Process 300 technology is excellent for: Immunohistochemistry, genome and proteome analysis, RNA and DNA expression analysis, DNA or RNA extraction.
What's Histosafe
A dehydration and clearing eco solvent for biological tissue processing, green molecule non toxic, harmless and with a low environmental impact.
Xylene free, isoparaffin free.
Speeds up and simplifies the steps in tissue processing.
Replaces the complete range of alcohol and xylene or substitutes before the paraffin infiltration.
Enables maximum penetration and efficiency.
It preserves the cytoskeletai and protein structure for a high improvement in tissue morphology.
in immunohistochemistry it improves the chromogenic definition in the histological slide result providing more viewing details and sharper vision.
Allows the use of molecular biology methods after processing steps improving the concentration and the quality of DNA from FFPE tissues for a best extrating DNA from archivial FFPE tissues.
Odorless.
Biodegradabllity 88%.
Low impact in the professional environment in accordance with International Directives and safety rules in the work environment.
Specifications
The system is composed of four stainless steel chambers with a capacity of 5 liters. The temperature process chambers can be adjusted up to 80°C.
Rapid pre-heating system that warming the solvent in about 2 minutes.
Pre-filled tank of reagent with quick connector without unscrewing the cap.
Separate waste tank for exhausted reagent and wax, placed in the compartment under the instrument.
20 programs for different processing techniques productivity: 300 cassettes per basket.
Continuously according to the established schedule with a minimum interval of 20 minutes for each process chambre.
Instrument closed by a lid and equipped with an active carbon filter to extract solvent fumes.
Dimensions: 1100 x 900 x 1600 h mm. Weigth: 100 kg.
230V 50 Hz 900W.
HistoDosing 20
Histodosing 20 machine has as its main purpose the preparation and filling of four HistoSafe® (Product) tanks at the same time.HistoSafe® is a mixture consisting of Clear Safe® Solvent and 99% Alcohol Blend Reagent in concentrations reported on the product safety data sheet. The basic ingredients for HistoSafe® preparation are automatically aspirated by 200kg drums and injected sequentially controlled into 5Lt / each canisters.
It is also possible to transfer to the cans of the only Clear Safe® base ingredient.
PROCESS FLUID DATA
INGREDIENTS 1
Code / Manufacturer: 0202 / TECNOLAB SAS
Name: CLEAR SAFE®
Description: DIAFANING SOLVENT FOR LABORATORY
Substance Classification: NON-DANGEROUS
INGREDIENTS 2
Code / Manufacturer: TC45399 / TITOLCHIMICA SPA
Denomination: MIXED ALCOHOL COLORLESS 99%
Description: REACTOR FOR LABORATORY
Classification Substance: DANGEROUS
Risk Phrases / Danger: R10 / H225 / H319 /
Composition and Property: [ETHANOL (85-95%) & ISOPROPYLIC ALCOHOL (5-15%)]
PRODUCT
Code / Manufacturer: 01.101,01.102, H01.102 / TECNOLAB SAS
Appellation: HISTOSAFE
Description: SOLVENT FOR LABOR. OF PATHOLOGICAL ANATOMY
Substance Classification: NON-DANGEROUS
Risk phrases: –
CAS-No. : –
Composition (Note 1): CLEARSAFE®:> 50% (SOLVENT)
ALCOHOLIC MIXTURE:> 40% (REAGENT)
CONTAINER DATA
CLEAR SAFE® / MIXTURE ALCOHOL 99%
Container Type: RIGID
Geometry: ROUND
Rated Content: 200Kg (LITERS 220)
Material: METAL
Dimensions: 590mm (Slit) x 890mm (H)
Installation: FLOOR
Laundry / Drainage Location: HIGH
Type and thread for fishing tackle: N.2 SCREW COMPRESSORS 2 "
Marking and approval: UN
HISTOSAFE® TANKS
Container Type: RIGID
Geometry: RECTANGULAR WITH HANDLE
Nominal Content: LITERS 5
Material Tanica: HDPE HIGH DENSITY POLYETHYLENE
Dimensions: 163mm (L) x 187mm (P) x 236mm (H)
Installation: FLOOR
Position / Load Position: HIGH
Load Attachment Type and Thread: N.1 SHAFT 2 "
Limit pressure: 900 mbarg
Limitation time: 80 ° C
Marking and approval: UN
MACHINE OPERATING DATA
– Dosing / fill rate nominal capacity: max 3 liters per minute
– Dosage:
A) Sequential, one ingredient at a time
B) Only CLEAR SAFE®
– Tanks filled at the same time: n.4
– Required accuracy: +/- 50 ml for can
MAIN COMPONENTS
– metering pumps
– Measured flowmeter
– Automatic shut off solenoid valves
– piping and fittings
– complete control panel with touch screen